My Poor, Poor Cubbies. And Yet...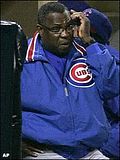 Yeah, I know this is slightly off of the regular theme of my blog, but I had to say something. What in Gods name are the Cubs doing?? They've won only ONE time on their current road trip, and have only scored 12 runs in their last 10 games. Not good. I think the season may end in June like it did last year. Oh well, we tried, right? Just proving once again that "Next Year is Definitely Not Here".
On the brightside, my second favorite team (is that possible?), the Milwaukee Brewers, aren't doing too bad. After all, they did what the Cubs couldn't do, that is, beat the Padres. If they ever learn how to keep dynasty players, like Scotty Pods and Richy Sexson, they may actually be great someday. And they kicked the crap out of the Cubs at Wrigley. Now that I think about it...that series started the Cubs horrible tailspin. Ever cry and cheer at the same time? Well I did.
Stupid Brewers......oh, how can I stay mad at a team named after the beer making process! Love ya Brewers!
Lastly, I'm going to the Sox game tonight. Wow...seriously reconsidering my Cubbie loyalty. Moment of clarity, if you will.
Haha, naw, f-that, I bleed Cubbie blue baby.